Manado Tua is a smaller island about half a mile west of Bunakan, and it's a lovely dive. My favorite drifts are called Manado Tua I and II. The current is usually gentle here and the wall outside the village makes for a sheer colorful drift.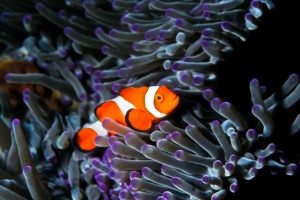 I like the shallower area along the top of the drop-off. There are many photogenic clownfish (anemone fish) found there in the shallows varying in colors of orange and white, red and white and even black and white patterns. Living unharmed among the stinging tentacles of large colonies of anemone, these little territorial guys will aggressively get in your face when you put your mask anywhere near them. They're a kick to watch.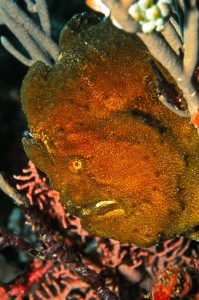 I also found my first true Indonesian frog (angler) fish a little deeper on this wall. The rounded balloon shaped critter was perched on a ledge using its lure like appendage to attract dinner. It didn't expect me, but it didn't spook either. It was well camouflaged, and I'm sure it thought it was undetected.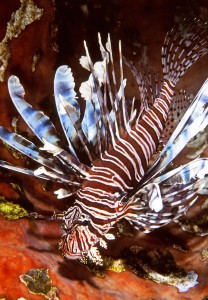 I often encounter lion fish here, too. Members of the scorpion fish family, they occupy crevasses and holes in the reef. They like to lie in wait for prey, pouncing on them with a swift move and sucking them into their large mouths. These guys don't seem to care if I see them or not. They will turn their heads into the reef and point their venomous dorsal spines at anything that threatens them, warning them to keep there distance. That works for me, but they still make for colorful photo ops as long as you don't get too close.
The guides like to take you to one other spot on the island called Tanjung Kopi. There are a lot of fish there but the current is usually intense, so I prefer the previous mentioned locations best.
After the morning dive at Manado Tua it's customary to return to the lagoon on Bunakan for lunch. After wading ashore you'll find a small village with lunch tables and local specialty dishes to supplement the normal fare. They sell a variety of tourist items so you might want to bring some change in your dive bag to shop. They also sell cold beer. You can pick up a bottle and soak it over the side during your second dive (usually on Bunakan) and then drink it on the way home.
This is another island to enjoy and experience the spectacular scenery of underwaterIndonesia. Manado Tua is yet another excursion in paradise for you to enjoy.