Located in the central eastern part of California, Sequoia and Kings Canyon National Parks are a very popular camping and hiking attraction for tourists worldwide. Pam and I enjoyed a wonderful five-night/four-day vacation here in late June this year, and we'd like to share our experience and offer a few tips for those who might want to plan a future trip to this scenic area.
The parks are open almost year around, weather permitting, but most visitors prefer the warmer days of late spring through late fall before it turns wet and snowy during winter months. You can access this area from the south via Highways 65 or 99 to Highway 198 East, or from the north through the Fresno area via 180 East. From there, just follow the signs. If you're towing or in a vehicle larger than 22 feet, the recommended route is through Fresno as the southern entrance road is very narrow with many switchbacks. Plan for speeds no greater than 30 miles per hour coming up the grade on this southern entry road. There is an entrance fee of $30 dollars per vehicle, which is good for one to seven nights. The usual passes are honored, and individual or group fees are also available. Camping reservations are a must as this is a very popular area throughout the summer and sites fill up fast. Reservations can be made up to six months in advance via recreation.gov (name your park). Wilderness permits are required for backpacking. There are cabins and other lodging facilities available within the park, and this is also a popular area for retreats and weddings. Pets are not permitted on any of the Park trails, but they are allowed in campgrounds and must be on leash at all times. There are restrictions on where you can bicycle. No hookups for trailers or RV's are available. Check the website for Sequoia and Kings Canyon for more information.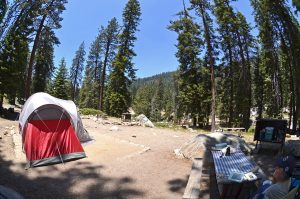 We stayed at the centrally located Lodgepole Campground and found the surroundings very pleasant. The campground has paved roads, drinking water, and flush toilets. Each site features fire rings, food storage boxes (required because of the bears) and a tent pad. Our site overlooked the Marble Fork of the Kaweah River, which was quite nice.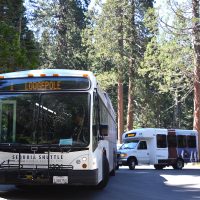 Locations and tent pad sizes vary, but you can check the campground on recreation.gov to see the layout when you make your reservation. The campsites are fairly close together, but the surroundings are beautiful. Lodgepole Village is a short quarter mile away where there is a Visitors Center offering ranger programs, a small grocery store, a small deli-style restaurant, and three-minute showers available for a $1 fee (bring quarters). There is a limited free shuttle service available for travel to nearby areas from Memorial Day through Labor Day, which made access to most of the places we wanted to visit very easy.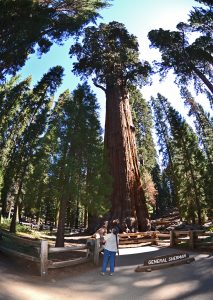 There are a ton of hiking trails in the area, including the High Sierra Trail which will eventually lead you to Mount Whitney. You could spend months exploring all the different trails, but we were limited to four days so we hit the high spots with fairly easy day hikes. Of course, this included visits to several groves of giant sequoias including the General Sherman tree, the world's largest tree. The sequoia groves are extremely popular and family friendly, so expect company almost anywhere you go. One day we went to the Giant Forest to see the General Sherman and General Grant trees, traveling by shuttle from the campground to easy walking trails at this grove near the Giant Forest Museum.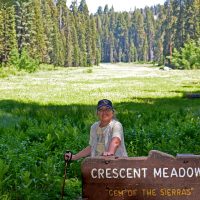 We followed that up with an afternoon hike around Crescent Meadows where we saw Tharp's Log (a rustic home built inside of a fallen sequoia log), lots of wildflowers, and a bear in the meadow. Another day we hiked up the trail along the Kaweah River from our campground to see Tokopah Falls in the morning, and then took an afternoon road trip north to Stoney Creek Village to check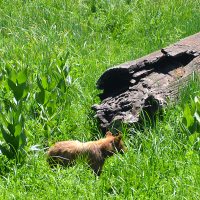 out other nearby areas including Dorst Creek Campground and the Lost Grove. A third day had us taking the shuttle from our campground to Wuksachi Lodge and then hiking the Wuksachi Trail and a part of the Twin Lakes Trail, a scenic, mostly downhill, hike back to our campground in the morning. We spent the afternoon sitting by the river at our campsite, just kicking back.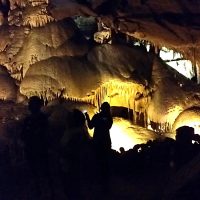 One of the highlights of our trip was a morning tour of Crystal Cave, a cave featuring formations made from the action of water moving through and over marble and limestone. This is a popular spot—advance reservations are a must and should be scheduled early (you can book your tour reservations for Crystal Cave through recreation.gov). Also, there is a fairly steep quarter mile hike down to the cave from the parking lot. Bring mosquito repellent and plan on a slow climb back up to the parking lot after the tour.
All-in-all, this was a wonderful experience for us and we recommend this area for a summer getaway if you're so inclined. The scenic beauty here is marvelous and even breathtaking at times, and that makes this adventure more than worthwhile.