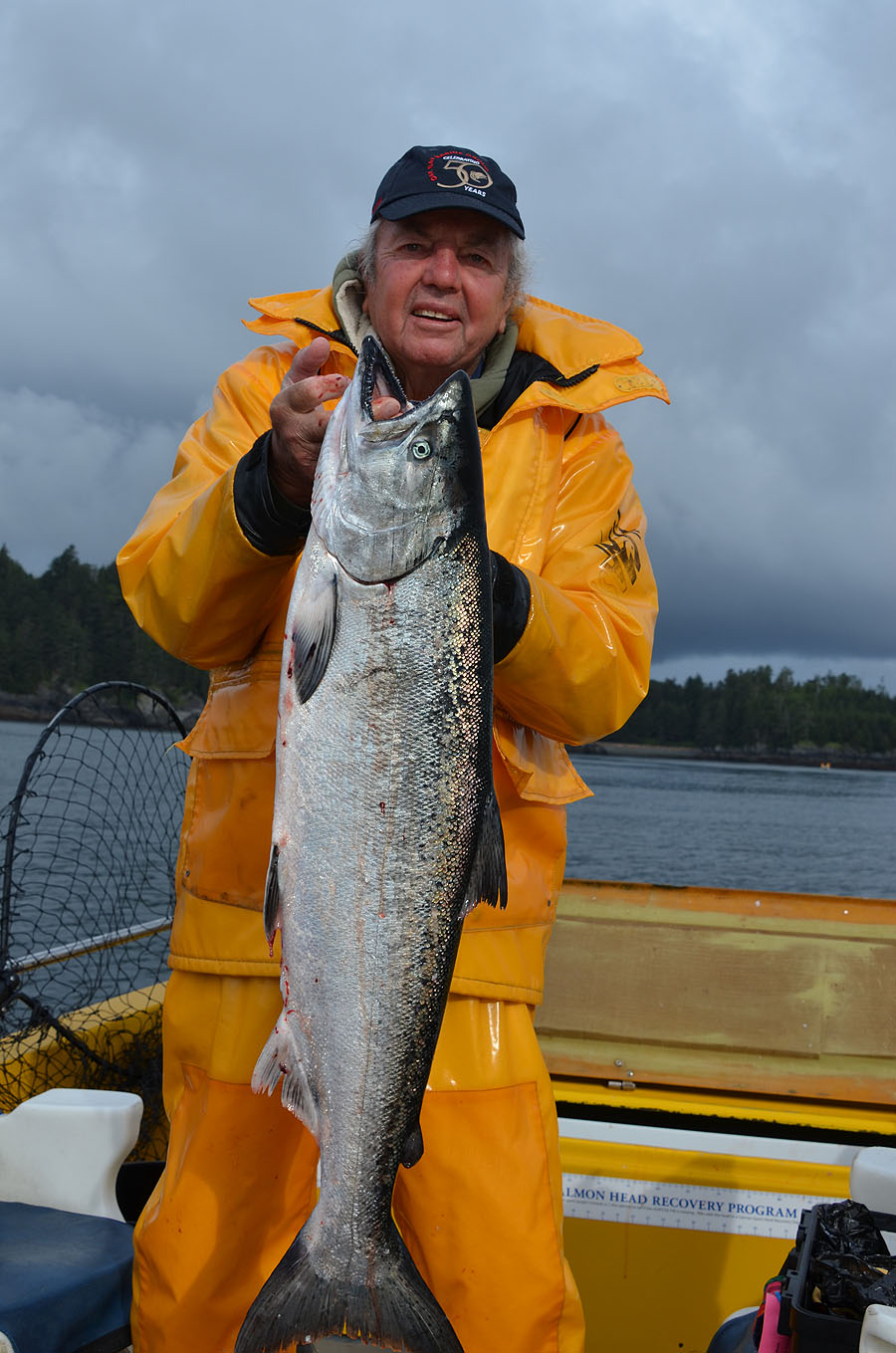 We had the pleasure of fishing with the Oak Bay Marine Group on the MV Charlotte Princess at Langara Island again this year, taking advantage of their two-for-the-price-of-one offer. Although we didn't plan it that way, we ended up in the Can-Am Fishing Derby, which turned out to be a blast. We had a great time, as we always do, landing limits of Chinook and Coho salmon as well as Halibut. The winner of the derby was the USA team, a southern California resident who landed a 38-plus-pounder on the last day of the derby and delivered it to the dock with only one minute to spare. He earned the first place prize — a trip to Oak Bay's Cape Santa Maria Beach Resort in the Bahamas.  Second and third place prizes went to the Canadian team.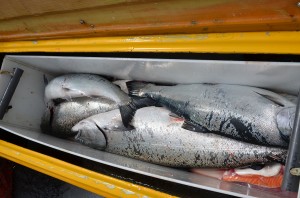 We had a shot at second place when Pam hooked a Chinook that looked to be about 30 pounds and fought it for 20 minutes only to have the hook come loose just as she was leading it into the net. You've all had that experience, I know, but it was doubly frustrating when there was another salmon fishing trip on the line as the second place prize. Oh well, we'll catch one next year that's even bigger! The two-for one-deal is still running as of the date of this post, which makes this an affordable trip if you're interested. Check out Oak Bay's web page at http://www.obmg.com/.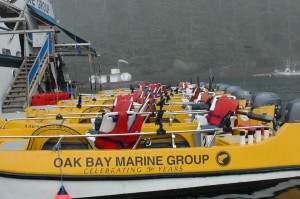 The things we like about these trips include the great food (expect to gain weight) and the excellent service we've always enjoyed. The fact that there's just the two of us in our own boat, which comes equipped with excellent gear and tackle, is another big plus for us. (No one can see our screw-ups that way either.) The no-limit water time is also great. We started our days at 5 am and fished until just before dinner at 8 pm, all daylight hours this time of year in British Columbia.
The fish are cleaned, vacuum packed, and flash frozen immediately after you return to the boat, keeping them fresh. One thing to note though, the fish are taken out of the freezer and boxed on the morning you leave. By the time you catch the helicopter to the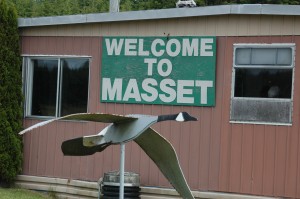 Masset airport on Haida Gwaii (formerly Queen Charlotte Island), and then the prop job back to Vancouver, it's been about 10 hours. If you're staying at a hotel in Vancouver, have them put your fish in their freezer to stay fresh. If you're making other traveling connections, be forewarned that things start to thaw after about 12 hours. Still, on this last trip we connected straight through to Los Angeles and then drove home on the same day/night. Our three boxes of fish were out of the freezer for 18 hours and still in reasonable shape, but I wouldn't want to keep them out much longer.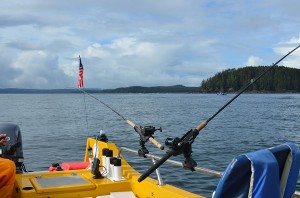 Fishing on the MV Charlotte Princess trip is all motor-mooching style, and you're equipped with three salmon rods, which can get interesting if the two of you get a double hookup. This is a fun and lazy way to fish, but if you haven't tried it before, the dock crew will be happy to give you some on-the-water instruction time. Separate halibut rods are provided for drift fishing. You can get salmon bellies for halibut bait, but we found that the same herring you use for salmon bait actually worked better. Note! New halibut size limits went into effect this year. You can check on these online before you travel.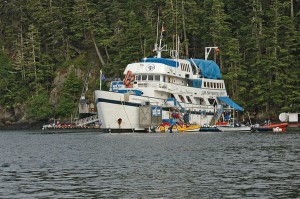 We hope to return again next year. This is a trip you might consider, and if you do, maybe we'll see you on the water. We'll be the ones in the boat with the bent rods (we hope), and we'll have fish stories to share too.
(Author's note, August 2015:  I've received several inquiries recently about fishing on the Charlotte Princess. I'm sad to report that the Charlotte Princess returned to dry dock after the summer 2013 season, and is no longer in operation. Oak Bay Marine Group still offers other fishing opportunities at several of their other resorts in British Columbia.  You can check their website (www.obmg.com) for information.)