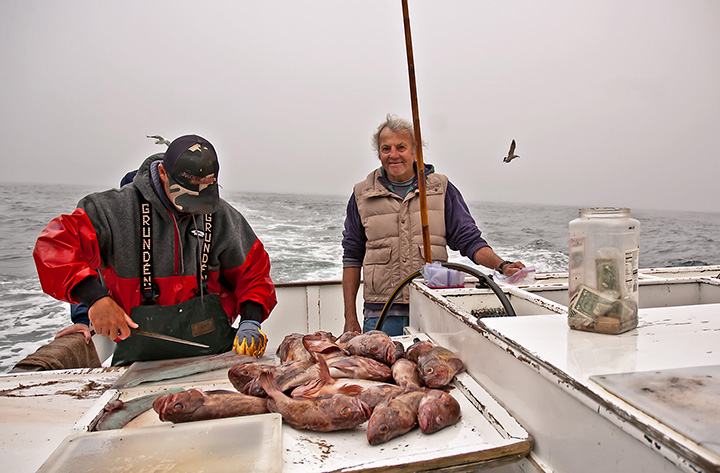 We had so much fun catching, and then eating, the fish from our last trip in June we decided to go again. Pam and I booked a ¾ day trip last Thursday, arriving as requested at the dock just after five am. We shoved off at six for a two hour ride in damp fog to Point Sal. Breakfast burritos helped cut down the time, and the fog started lifting as dawn broke about 7:30 that morning just before we started fishing.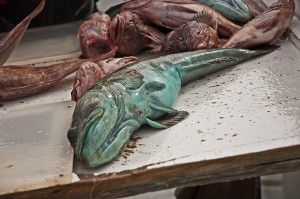 On our last trip we enjoyed fishing shallow waters less than 100 feet deep. This time we went closer to shore and made drifts no deeper than 50 feet. There were only 14 passengers on board so we all spread out and enjoyed an almost tangle-free day. What a rarity, and we had a blast. Lures and plastics topped off with cut squid did the trick, and everyone on board was limited out before noon with mostly browns averaging two to three pounds each, some nice cabazon, a small sprinkling of reds, and 12 legal lings sacked up, too.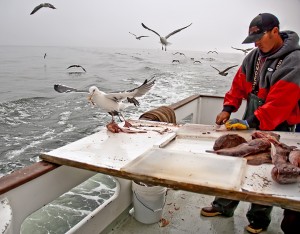 The crew was very helpful, just as they were on the last trip, and that added to the ambience of the trip. On the way home the same expert fish cutter filleted out the catch for a buck a fish. We ended up with about 25% more meat on this trip than last time. That freezer bag packed into about 25 two person dinners not counting our ling. We packaged that critter separately for a neighborly barbeque.
This was a good trip and we'll go again down the line after we finish eating what's in the freezer. Patriot Sportfishing is easy to access, it's located on the dock there in Port San Luis just 5 minutes off the freeway, and there's plenty of free parking. You can call them for information at 805-595-7200, and you can Google directions from your home to the landing. The ¾ day trip provided plenty of time to catch limits and got us back to the
dock by 2pm. Since it was a 2 hour drive from our home we went up the day before because of the early departure. Pismo Beach has lots of motel options, good restaurants, and other tourist attractions to enjoy. If you're in the market for shallow water rock fish, I recommend this as a solid option. If you try it, I think you'll like it.