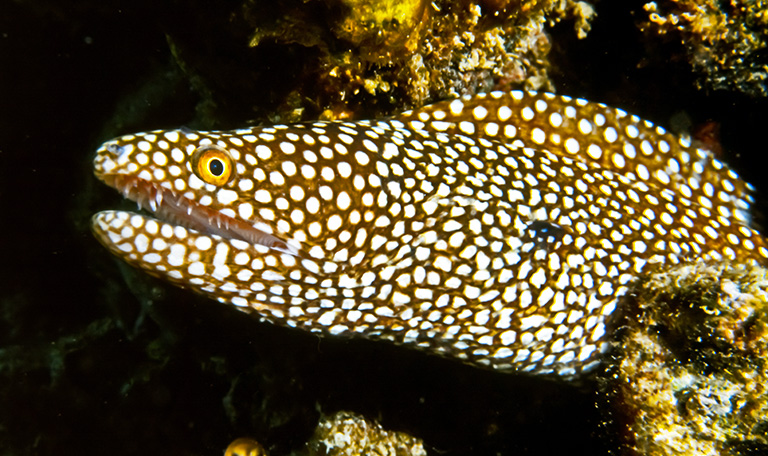 Our last blog featured three drive-to-and-then-dive public beach parks located on the North Kohala coast between Kawaihae and Hawi, about 50 miles north of Kailua-Kona. Those all provided parking and easy access to the shore. However, there are also other excellent dive spots along that road with good diving potential. The rub is that most of these require added effort, usually in the form of walking down and up dirt roads, to get to the shore. I'd like to feature my favorite three of these for your consideration. I call them my drive and then walk down to the beach and back dive locations.
This arid coastline features some of the cleanest water and some of the best diving structure on the island. Shallow lava fingers and coral beds start in the shallows and then gradually descend in cliff-like steps laced with canyons and caves that end up dropping off onto white sands in 70 to 80 feet of water. There are also other offshore rock and debris areas further out, but most of these require a long swim from shore and therefore are  easier accessed by boat.
Heading north from Kawaihae you'll find a number of rutted dirt roads that wind down over nearly impassable bumps and rocks to the shoreline. A few locals with heavy duty four-wheel-drive vehicles can make it down here, but tourist vehicles don't have a chance. You have to park off the main highway and then walk. Distance varies, but it's almost always a hot dusty trek to the shoreline. Leave a cooler with beverages in the car, because you'll need refreshments after the walk. Still, the diving along here can make it well worth the effort.
Typical of this coast there can be a strong long-shore current and sometimes strong off- shore winds. Take these conditions into account when planning your dive. It's always a good idea to stay conservative, so when you start to get low on air you should end up finishing your tank in shallow water close to the beach.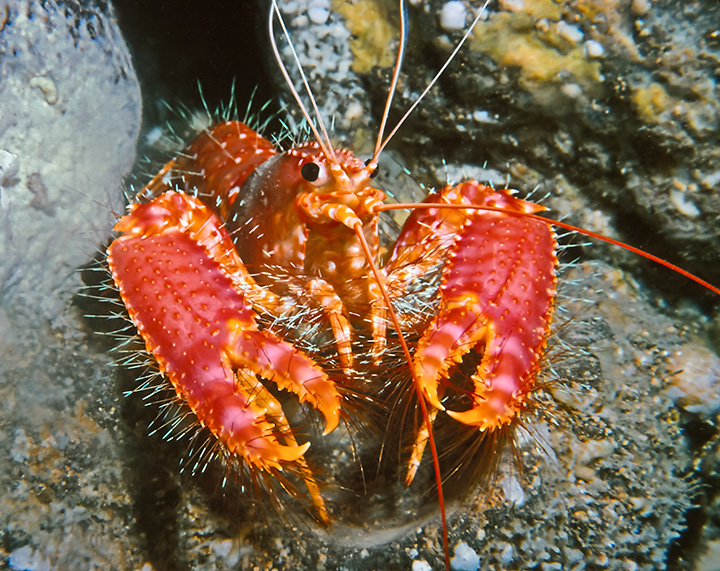 I like to park across from the entrance to the Kaiholena housing tract near highway marker 87. It's a good ¼ of a mile or more downhill, and when you get there you'll find a small cove at the end of the road to the left that makes for fairly easy access. Also, take landmarks of the shoreline before you drop down to the bottom. It's nice to be able to exit close to where you entered to enable you to find your way back up to the car. If you dive and work to the south here there's a large twisted round lava cave in 30 feet of water that is occupied by a number of small Hawaiian lobster. This crawdad-like hairy crustacean is unique, and fun to watch or photograph. The whole area is populated by colorful fish, eels, shrimp and other critters that will enhance your diving adventure.
The last blog talked about Lapakahi and Mahukona. These two parks actually abut one another. You can park in the camping area at Mahukona and walk 100 yards south on a shoreline trail and reach the north edge of Lapakahi. I like to enter there and make a one-way dive back to the harbor's ladder exit at Mahukona. Or better yet, if you have someone to drive you, you can walk down to the beach at Lapakahi, and enter there, and then work north to Mahukona. If you stay in 20 to 30 feet of water you'll cross lots of lava and coral structure teeming with marine life. A cautionary note: don't try this one-way dive into strong current—it's farther than you might think. If the current is flowing in the other direction you can also dive from Mahukona back to Lapakahi.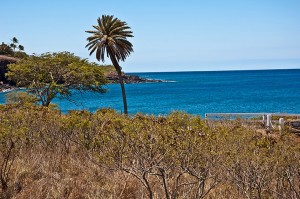 Driving a few miles past Kapaa Park will bring you to the old Coast Guard road leading down to the northern most end of the island at Upolu Point. There used to be a loran station there, but when that was abandoned the station was turned into local housing. This paved but potholed road drops down just over a mile from the main highway and ends at a gate blocking further access. Turn left into a marked beach access to park. The entry area is over rocks and leads into a large cove to the south that provides good structure and a pleasant dive. I've always liked this spot because I once found a checkerboard cowry there. If you're feeling energetic you can also walk past the gate to Upolu Point and dive there. Be aware though that the point can have swells and extremely strong currents to account for in your dive plan.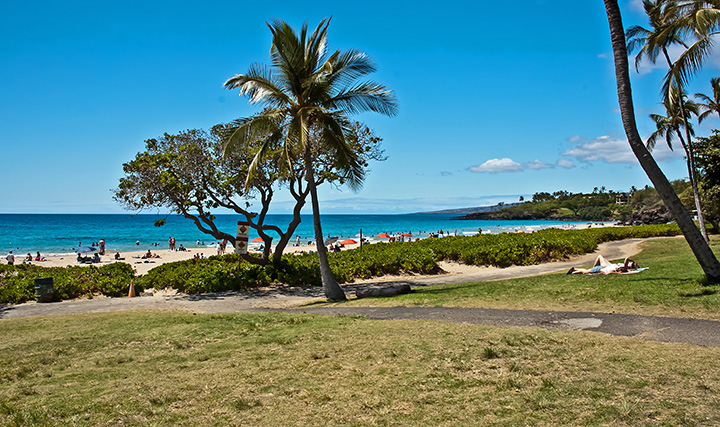 After diving consider driving back to Hapuna Beach and lying out on the warm white sand for a while. There's a food pavilion, fresh water showers, and lots of very excellent people watching to enjoy. This makes for a relaxed way to end the day.
Boat diving in Hawaiian waters is outstanding, but diving off the beach is very rewarding, too. The Kohala Coast offers some of the clearest waters, some of the best structure and many of the most interesting critters found anywhere. This is a great area to dive, and I highly recommend you try it.