We had the pleasure of camping at Banff National Park in Canada during the first week of September this year and had a great time in spite of the weather trying to rain on our parade. We stayed at Two Jake Lake, a beautiful campground only ten minutes from downtown Banff. It's located off the Lake Minnewanka Loop Road, and we were tent camping as usual. Facilities at this site were great, plus they give campers a bonus of all the free wood you could ever want to burn. You don't see that very often and we took full advantage of the perk keeping our toes nice and toasty each and every night.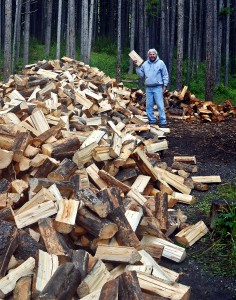 Our campsite was on the shore of Two Jack Lake and featured breathtaking scenics right at our doorstep. We highly recommend this place for a stay over if you want to visit Banff. It's not only conveniently located close to the town but it is one of the all-around best campgrounds we've ever had the pleasure of visiting. Reservations are available on line through Parks Canada Reservation Services.
The town is quaint and it reminds me of Mammoth Lakes in California in many ways. There's a central shopping area for tourism surrounded by old and new buildings of various types just like most tourist destinations, but it all comes together rather nicely.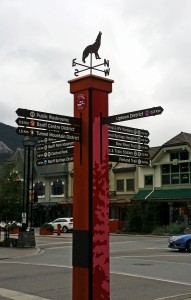 There are a lot of restaurants to choose from although most of them are a bit on the pricey side. Like Mammoth the town's grocery store has cheaper food you can take back to your campsite as an alternative. Gasoline in Canada runs a bit higher than in the states, but it's not completely out of line, and it's readily available. There are lots of things to see and do in adjoining areas making this a pleasant place to visit.
We were there for four nights giving us three days to explore surrounding areas. It rained one day but we made the most of it. Day one was spent visiting the areas around Lake Louise in the morning and then driving the Icefields Parkway in the afternoon. Both featured great scenic views of the Canadian Rockies, and this was definitely time well spent.
Lake Louise itself is very touristy but it's worth stopping to take photographs of this famous and beautiful glacial lake and to walk through the old Chateau Fairmont, a famous hotel located there. We arrived early to try to beat the crowds.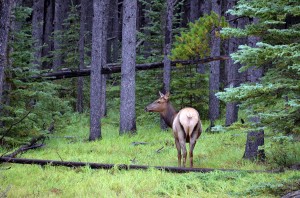 We were told that there was a chance to see Grizzly bears along Moraine Road above the lake, but we struck out there. We did see several elk along the Bow Valley Parkway, a road that parallels the main freeway and offers a chance to see wildlife while driving up to Lake Louise.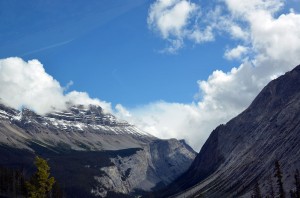 Our afternoon drive along the Icefields Parkway featured one spectacular view after another all along the way. We went along the Columbia Icefields as far as the Athabasca Glacier and loved it. This beautiful drive is a must, and you've got to bring your camera. Our bonus on this drive was having a black bear bolt across the road directly in front of the car. We thankfully missed hitting him with the car, but we also missed getting his picture as the camera was trained on the spectacular scenery at the time.
Day two in the rain we enjoyed touring around Lake Minnewanka and its surrounding areas, and during a break in the weather we took a very enjoyable short hike around the attractions at the Cave and Basin National Historic site near Banff. The site boasts warm mineral springs, and it is considered the birthplace of Canada's national parks. Again, it was time well spent. They have a small restaurant at the site, and the beer is ice cold. Not a bad way to spend a rainy day.
On our last full, day the sun came out and we finally got to go for a walk. In the morning we took the trail circumnavigating Johnson Lake near our campground. It turned out to be a very pretty and a quite easy hike featuring a slice of the local flora and several great views of the lake and its surrounding mountains. Wanting to be a little lazy in the afternoon we ended our day with a ride on the Banff Gondola.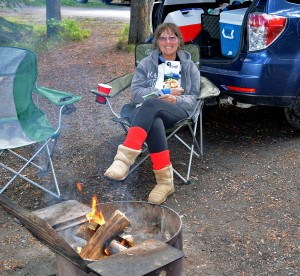 For us this was an outstanding trip that we enjoyed each and every day we were there. If you get the chance we recommend this area for a visit, and we bet you won't be disappointed. You'll find some of the best scenery found in the Canadian Rockies, and the trails and surrounding facilities aren't bad either. Try it, we think you'll like it, I know we did.