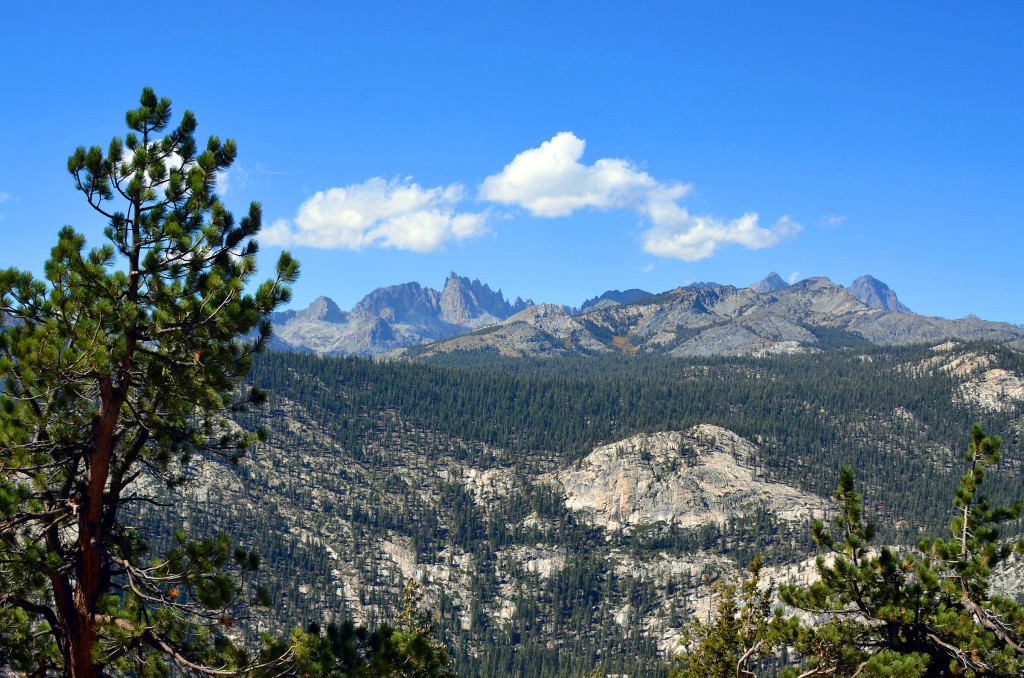 We just returned from a late summer camping trip to Mammoth that was a lot of fun. Camping in New Shady Rest was colder than usual with night time temperatures in the mid 30's, but the days were more comfortable for hiking than in the summertime. The campground was only half full and a lot quieter than it normally is during the summer. This is the time of year when tourists who come to fish are at a minimum, and it's way early for skiers. The town runs at a slower pace, and you don't have to wait in line to eat at Roberto's or The Stove. Although most of the flowers are done blooming, the trees are starting to change color, and the fish are still biting. It's September in Mammoth, and there are some things to like.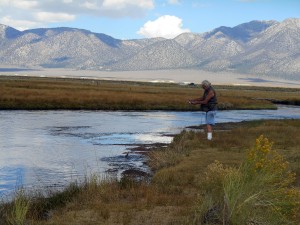 The Owens River bite was wide open for us. We were drifting worms into the deeper holes on the river, and the action was nonstop. We each released 20 or more fish while keeping only those that were gut-hooked, and we still had to stop fishing with limits in less than two hours. You have to understand this river though. You can't just sit in a chair and wait for the fish to bite. Pick a place to start and work down river. If you don't get a bite after three or four casts, move on. We covered a mile or more in our two hours, but the effort paid off. We passed a lot of people who weren't catching fish while sitting on a deep hole. On the Owens, you have to come to the fish, they don't come to you.
The mandatory bus to Devil's Postpile doesn't run after the Labor Day holiday, so you can drive your own car down to the San Joaquin River. There's a $10 per car charge, but they honor the Golden Age Senior Pass so it was free for us. The water there is very low this time of year, and the current is slow. Fishing here wasn't as good as it usually is earlier in the season, but there were plenty of smaller trout to catch and release.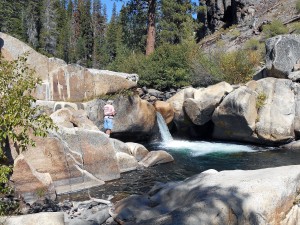 Some of the deeper holes had a few keepers though, and those wild trout are mighty tasty no matter what time of the year you take them. One disadvantage with the bus not running was that you couldn't get off at an upper bus stop and fish or hike down to a lower bus stop. Since we only had one car we had to return to where we started. That made for a little more walking, and we weren't able to cover as much ground.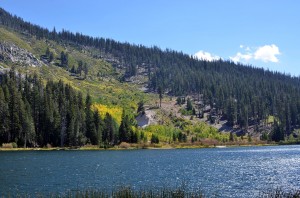 The flowers we love to see were pretty much done for the year, too. Still, there was a lot to do. We enjoyed hiking around Sotcher Lake, a one-way, mile and a quarter trail with minimal elevation gains, even though we didn't get to see the resident eagle. A hamburger and milk shake at Red's Meadow's store hit the spot, too. The scenic drive down into this area was breathtaking, and we could take our time and stop wherever we wanted to take pictures.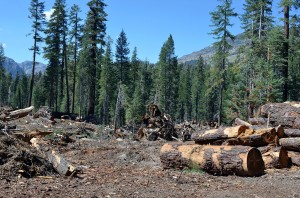 The Forest Service has cut up and piled many of the trees felled by last year's windstorm so there was lots of free wood for the taking although it made for a few open eyesores in the otherwise beautiful green forest. Still, a great drive, a nice hike, some good fishing, and a very pleasant way to spend a day.
Mammoth is kind of kicked-back in September, moving at a slower pace, but we enjoyed this trip just as much as we do coming here in the spring or the summer. There were some of the same things to do, and a few different things to do, but plenty to keep you occupied. If you visit the Mammoth area in the late summer or fall you'll have fun, I guarantee it. But bring some warmer clothes and an extra blanket for those cold nights. And if you have someone to snuggle up to in your sleeping bag, like we two do, then you'll get an extra plus visiting here in the fall.