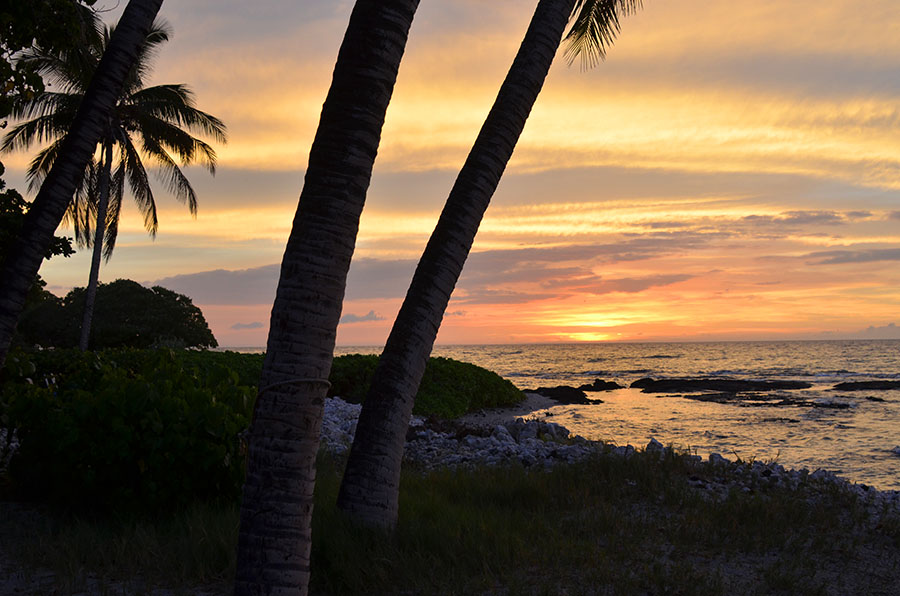 We went back to the Big Island of Hawai'i in June of this year and had another great time. We rented a charming older house on the beach near the middle of Puako Beach Drive and stayed for a week. We've rented this place before and it never disappoints us. However, regardless of where you stay, this is an outstanding place for a vacation if you're a diver, snorkeler, like to kayak, or just love to hang out along the seashore. You can check out rentals on the web if you want to explore this option. Try www.vrbo.com for rentals in the area.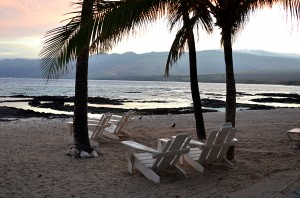 One of the main advantages of renting a house is having a kitchen. We don't like to eat out all the time, especially for breakfast. Another plus is avoiding crowds — we like having a beach at the front door almost exclusively to ourselves. Most of the houses here furnish toys like boogie boards and kayaks for free, too. We think it beats the hell out of a crowded hotel. You might find that beach houses aren't all that much more expensive than hotels either, especially if there's more than two traveling with you.
If you decide this option might be good for you, think ahead about your needs and bring those things with you. There's a gas station near the dive shop in Kawaihae, and a small farmer's market just down the street for fresh fruit. For the rest of your grocery needs, there's a small market on Puako Beach Drive where you can buy the basics. Still, you should stock up at the big market in Kailua near the airport before you make the drive to your own piece of paradise up the coast. In a pinch, you can also go up the hill to Kamuela (also called Waimea) for groceries or to find a restaurant; it's a half hour drive away.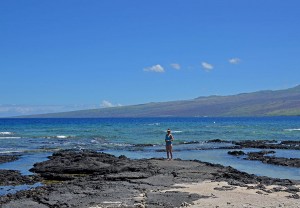 The only changes we saw along the road this year are several areas of new construction. All of the beach access points remain the same (see my original Puako Beach blogs on September 3, 2011 and September 19, 2011).  A reminder:  the best sand entry points are toward the end of the road, between numbers 100 and 102 (look to the left), and across from the church between numbers 76 and 78. The latter entry is very popular. There are three boat moorings marked by small white buoys within easy reach just outside of that entry. Local dive/snorkel boats from the hotels bring their guests here because the underwater terrain is so interesting and the sea life is spectacular. From the beach at the 76-78 entry point, the snorkel out isn't all that far, and you can skip paying the boat fee. These are the best places to go if you want to avoid entering over lava. The best option will always be diving right in front of your rental though, and after you take time to learn the safest entry areas, that's the way to go.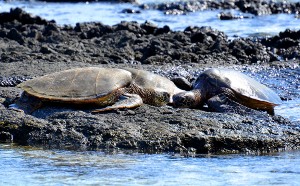 Since we like to spend so much time in the water we bring all of our own gear except for tanks and weight belts which are available just down the road at Kohala Divers (see their website at www.kohaladivers.com). We enjoyed several tank dives and lots of snorkeling on this trip, and worked up a decent tan. Tide pool jumping is also a blast. We had so much fun with that I'm including a separate blog on Puako tide pools for your information. Remember, turtles are the name of the game along this road, and diving or snorkeling among them is fun. They're protected though, so look but don't touch.
This is our favorite place in the Hawaiian Islands, and we're going back next year. Maybe we'll see you there, and if we do, we hope you're having as much fun as we expect to have.