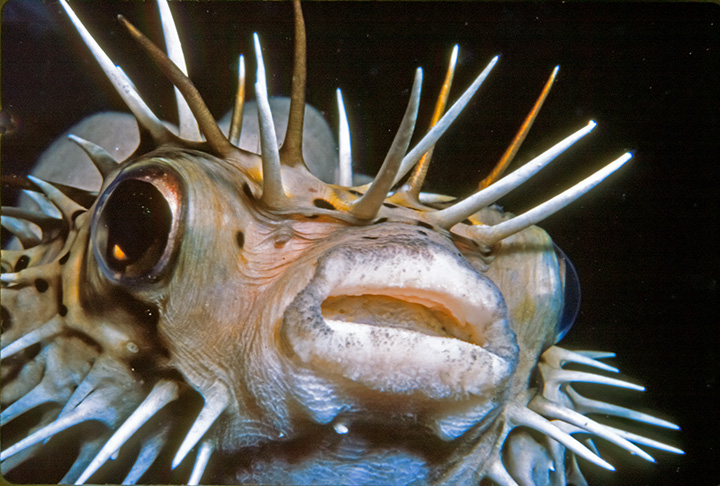 Divers on a budget can drive to a variety of places to dive on the big island of Hawaii. Earlier we featured diving with turtles along Puako Beach Drive. Now let's venture further north past scenic Hapuna Beach and past the small port town of Kawaihae to find beach access at three parks located along the road to Hawi. You can drive to these special places with ease, and unless the surf is up, you'll find an easy entry/exit with varying twisted offshore lava structures, coral reefs, lots of colorful fish and other photogenic critters to enhance your underwater adventures.
The last place to find a dive shop, gas up, or buy food is Kawaihae. I usually stock up there on the way to my dive. After diving, it's an easy trip up the road a few miles to Hawi. This is a good place to stop for lunch, a beer or afternoon snack, or to just be a tourist and visit the statue of King Kamehameha located there. Hawi is about 50 miles north of the airport so no matter where you're staying, it's a full but an easy day.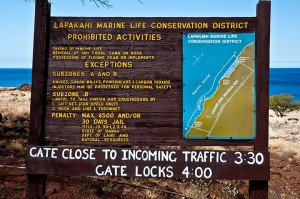 The first park up the road is a restored Hawaiian village called Lapakahi where you can park at a small visitor's center. You can pick up a map, and any non-diving friends can take the circular tourist walk while you're blowing bubbles. There is one drawback here: you'll have to take a short walk from the parking area to the shore. Use the trail to the south; it's about 75 yards down to the sea. Ocean access is off a small coral and pebble strewn beach, and unless there's storm surf, the entry's usually no problem. Once in the water check the current, and if you work into the current it will make your return to shore easy at the end of the dive. If the current lets me, I like to work to the south from the entry. There's some dramatic structure in that direction including shelving drop-offs, a room-like lava tube, and lots of critters to look at. A word of caution though, this is a marine protected zone so the fish are tame, but you can't take anything home.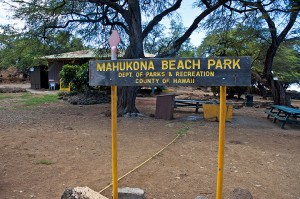 Mahukona is located just a little over a mile to the north of Lapakahi. You'll see an identifying sign on the left of the main highway leading to a narrow access road. Wind down the road about a quarter mile to where the road forks. If you go left you'll reach the camping by permit area. There's a head there if the need arises. The right fork ends at the old harbor, and that's an excellent dive. Park on the cemented area just past the old railroad station located there. Your entry is a giant stride off the cemented embankment to your north, and there's a ladder there to make for an easy exit. There's also non-potable water available to wash off your gear after the dive.
This cove was once a busy port where ships loaded sugar cane, and whalers anchored in the cove for the night. The place is a historic junk pile with abandoned anchor chains and other metal debris scattered along the bottom. Most of the old anchors have been salvaged to adorn hotel lawns, but there's still a lot to look at. It's also a good place to look for hand-blown soda bottles discarded there and that are sometimes uncovered after storms.
Once you're in the water, snorkel along the north shore until you decide to start your dive. There's lots of coral in that area that's quite scenic. You can also work straight out and find coral ridges running between sand fingers that support large numbers of interesting marine life. One caution: this area is subjected to offshore winds and strong currents. Plan
your dive so that you're well inshore before you run out of air.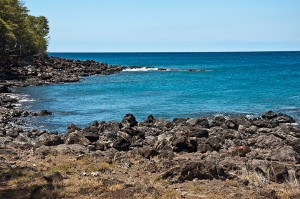 The last park featured in this blog is Kapaa located about 3.9 miles further north and also marked by a sign off the main highway. There's a camping pavilion and parking area at the end of the access road. Your entry/exit point is a small protected cove just to the south of the parking area. There's good structure anywhere outside of the camping pavilion with a particularly nice shallow coral bed located there. That also makes for a good spot to snorkel for non-Scuba people. If you work outside into deeper water you'll come to sand at a depth of about 70 feet. This is a good area to find shells by following their trails on the sand. I've often seen pelagic species like mantas and eagle rays, large tunas, and wahoo, too. As with the other two spots mentioned this week, plan your dive to avoid ending up offshore where current and off shore winds might be a problem.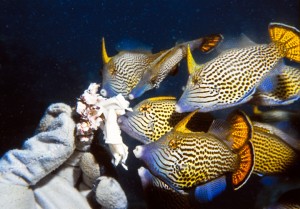 These three spots are all excellent dives with reasonable access and good underwater structure. All are inhabited by a myriad of interesting marine critters that will help make your dive fun. I recommend these easy to drive-to locations, and hope you'll have the opportunity to visit them soon.