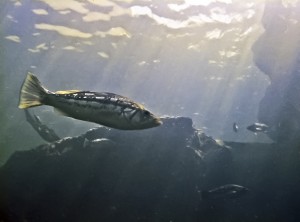 County Line Beach has been a favorite dive site of mine ever since I first learned to dive.  This site is located off Pacific Coast Highway less than a mile north of Leo Carrillo camp ground and about three miles south of Sycamore Canyon.  There's plenty of parking along the highway or in the dirt lot at the point just north of the beach across from Yorba Buena Road.  There are portable potties available in this lot, and there's a small restaurant across the street, too.  This point is a popular point for surfers, so take that into account before picking a spot to enter the water.  Before the rules changed we took a lot of red abalone from here, but now that's history.  It's still a versatile spot for other game though, or just a pretty place for a fun dive if you don't want to drag around a spear gun or a game bag.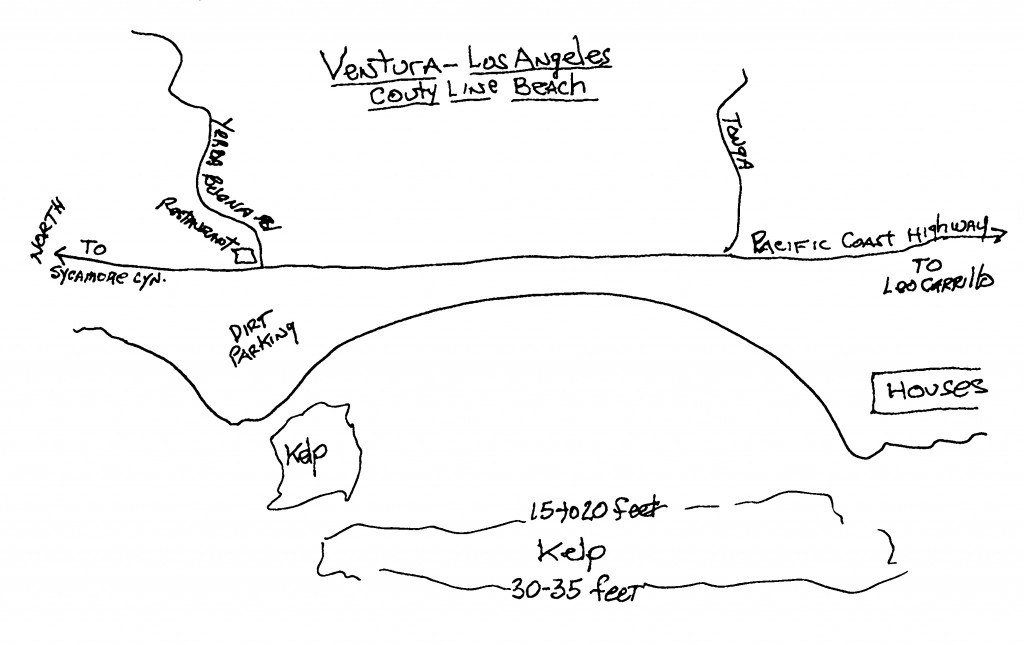 The entry is a gentle sloping sand beach that's easy unless the surf is pounding.  The large kelp bed directly off the main beach features a progression of large pinnacle rocks, especially along the outside edge of the kelp.  There are a number of these large pinnacles outside of the kelp in 40 to 60 feet of water, but it's a long swim unless you're boat diving, have a kayak, or elect to ride a float.  This is a good area to hunt for rock scallops, rockfish, and calico and sand bass.  I've also taken a fair number of lobsters out here, especially in and around the deeper pinnacles.  The visibility is usually the best in this deeper water, too. 
 Inside, under the kelp canopy, there are a number of smaller pinnacles along with smaller rock and gravel patches.  Scallops aren't as plentiful, but spear fishing is good for the rest of the finny critters already mentioned.  There are lobsters all through here, but if hunting them was my goal, I'd work the scattered rocks in the shallow kelp bed just off the north point parking lot if the visibility is acceptable.
The area between the beach and the inside edge of the kelp features patches of sand, gravel, and eel grass, and it's a great place to look for halibut if the visibility is okay.  Unfortunately, that's not too often because the dirt kicked up in the surf line usually gets trapped by the inside edge of the kelp bed making this area a restricted visibility dive except for the few rare days when there's little or no swell. 
County Line makes for a great beach diving area anytime, but especially if you're camping nearby.  The beach is also a good place for non-diving friends and relatives to hang while you're out there blowing bubbles.  Try it, there's a lot to like.
Next week, I'll post my prognostications for hunting lobster as the season nears its end.  Until then, safe diving!