Pam and I both enjoyed our annual Canadian fishing trip. This year, we stayed at the West Coast Fishing Club's North Island Lodge, and we'd like to share our experience with you in the following review:
Facilities: The North Island Lodge is located in a protected bay at the south end of Langara Island, just off the north end of Haida Gwaii (formerly Queen Charlotte Island). This is one of West Coast's three facilities in this area. The North Island Lodge caters to people who want a more casual atmosphere, something we prefer. The facilities were quite comfortable for us featuring a standard two-person cabin room with two beds, a closet, dresser, and en suite bathroom complete with a shower.  There is a spacious lounge area you can retire to each day after fishing where soft drinks, beer, and wine are served at no extra cost, and tasty hors d'oeuvres are available to munch at your leisure before dinner. Hard liquor is also available at a nominal fee. Dinner is served at about 8:30 pm nightly in a comfortable dining area, and we found the meals to be quite good and nicely presented. Both areas feature a relaxed, friendly atmosphere and excellent views of the ocean. For lunch, you can opt to stay at sea or retu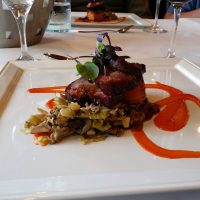 rn to the lodge. If you want to keep fishing through lunch, the staff will prepare sandwiches and snacks for you to take along in a cooler. They will also deliver soup and a hot sandwich to your boat at your request. Breakfast is standard continental fare with scrambled eggs, breakfast meats and potatoes, cereals and yogurts, and plenty of fruit. During our trip, the staff and service was superb—everyone was cheerful and helpful at all times, both on the docks and inside the lodge. It was one of the best staff groups we've experienced.
Boats: We opted for a self-guided package and fished in a 19 ft. Eagle Craft center-console boat that was well equipped with downriggers, three salmon rods, two halibut rods, and all the other necessary gear and bait required for fishing. There was always a friendly crew member on the dock adjacent to the lodge to assist you when needed. Guided boats are slightly more spacious, but you will have to pay a bit more for that luxury. Still, if you aren't familiar with fishing for salmon and halibut in the ocean it would be well worth the extra expense. Fishing with a knowledgeable guide makes it easier on you, too, but we're too hard-headed (at least me) for that option.
Fishing: We have fished off Langara Island before so we were familiar with the area. One of the things we always liked here is the ability to fish either side of the island and get some protection from prevailing winds. Although we traveled in mid-summer, no one can control the weather, so it's nice to have options for fishing grounds. We booked the longer trip (5 days/4 nights) which gave us three full fishing days with part days upon arrival and before departure. That maximizes your chances of success, especially if the weather turns nasty.
We've always done well at Langara and this year was no exception. The "take" limit in this area is eight salmon per person per trip, four of which can be Chinooks, and we managed to get our limits. On our trip, Coho (silver salmon) were reasonably plentiful, but you had to work for the Chinooks, which is normal after the month of June. We released many fish, too, mostly Pink salmon. The one hazard we did encounter was the local population of voracious sea lions which ate three of our salmon before we could get them onboard. One big sea lion striped all of the line off of the reel when he grabbed our fish, but we managed to cut the line loose before he could take the rod and reel with him, too. Oh well—all part of the fishing experience on Langara Island.
You have three fish processing options. Take your vacuum-packed and frozen catch home with you in boxes, have your catch custom-processed and shipped to you (extra charge), or take your catch home fresh. Be sure to get your Canadian fishing license and salmon stamp on line before departing for the trip (available on line at Fisheries and Oceans Canada).
Travel: Living near the Los Angeles area, we always fly to Vancouver, British Columbia the day before our trip and stay overnight in a hotel. We booked the Pacific Gateway Hotel at Vancouver Airport and were pleased with our accommodations. The hotel is less than 10 minutes away from Vancouver Airport's South Terminal via a courtesy shuttle, which runs every 20 minutes. We also stay the night on the day of our return to Vancouver, and then fly home the next day. The hotel will put your packaged fish in its freezer overnight at no extra charge. On the day you start your trip, you have to be at the Vancouver South Terminal desk before 7:30 am to log in with West Coast. From the South Terminal, you will fly to Masset on Haida Gwaii. From there, it's a 10-minute helicopter ride to the lodge. All transportation between Vancouver and the lodge is included as part of your trip package.  Your flight to and from home to Vancouver is at your own expense.
We had a great time on this trip, and we're happy to recommend West Coast Fishing Club as an excellent option for a Canadian ocean fishing experience. Overall the trip was excellent, and the staff one of the best we've had the pleasure of working with. Langara Island is a good place to fish, and if you're thinking of ocean fishing for salmon or halibut it's a great area to visit. Try it, and we think you'll like it.  I know we did.
West Coast Fishing Club is on line at http://westcoastfishingclub.com/ or call 888-432-6666