Fishing
Fishing is going to be a little different around the Mammoth Lakes area this year. After all the snowfall this last winter, the season is going to be late starting, figure at least three weeks. We were camped at the New Shady Rest campground near the end of June expecting to fish all the usual early spots where we've had luck during many past years. Surprise!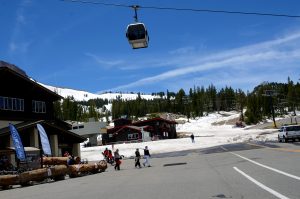 The road above Mammoth Lodge was still covered with snow, so no fishing down in the San Joaquin River gorge for now. Also forget about hiking to most of the upper lakes unless you want to wade through lots of snow. Those areas should be open later in the season though, and the fishing should be excellent when you are able to gain access. Think mid to late July, and check the reports from all the other usual sources for up-to-date information.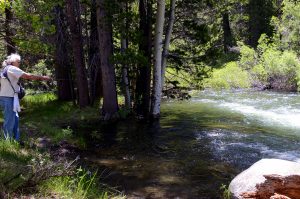 All of the areas along the June Lake loop were open, and the Twin Lakes loop was open too, with the snow there melting fast. Mammoth Creek is fishable, but the water is running high and fast.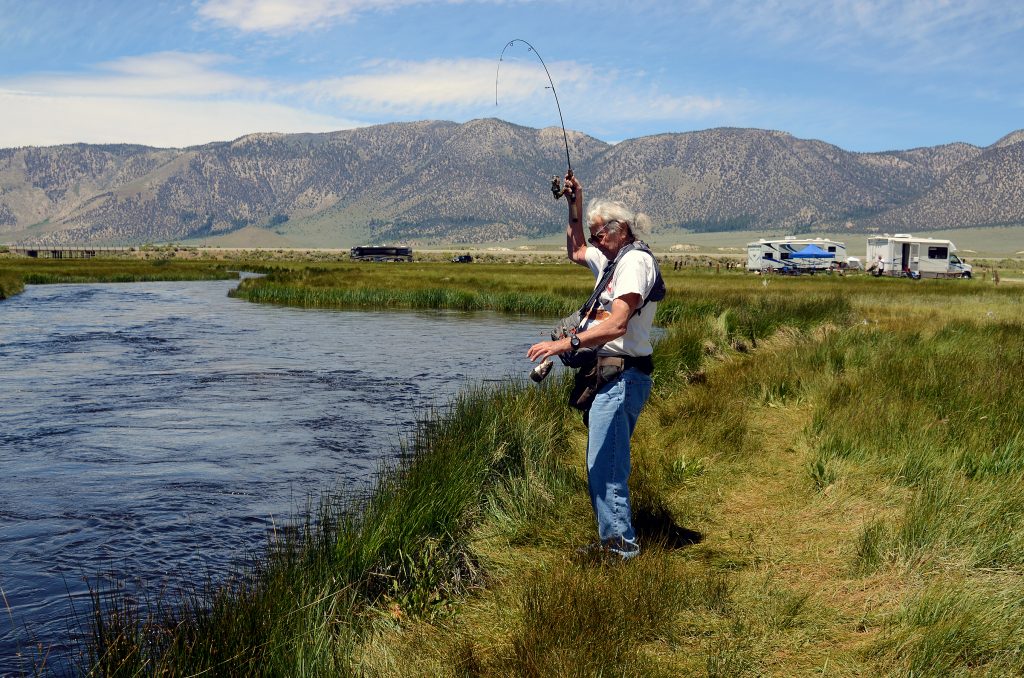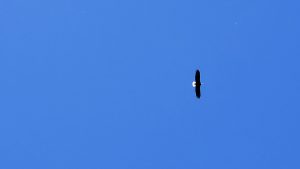 The Owens River was its usual self – lots of fish but they were mostly on the small side for this time of the year. We did have a fun fishing buddy on the Owens River this year – a bald eagle flying overhead trying his luck on the river.
Fishing pressure in most of these areas was heavy while we were there, probably because of the restricted access to waters in most of the back country. Still, these are great places to drop a line, as always. Those were the only places we visited during this short trip, but I think you can expect similar conditions throughout the rest of the Sierras, so plan accordingly.
Camping
Many of the higher elevation campgrounds were not open as of this time, including all of those above Twin Lakes. They are still covered with lots of snow and there is restricted road access. Both Shady Rest Campgrounds are open and running, but because of the closures of many of the other area campgrounds, sites are at a premium, and unless you have reservations, you are not likely to find any last-minute openings.

There is an excellent alternative campground we'd like to recommend for your consideration: Brown's Owens River Campground. It usually has sites available, especially during midweek. You can also make reservations in advance should you choose to do so. We tried it out for the first time, and we were quite pleased with the accommodations. Brown's Owens River Campground is located along the banks of the Owens River just across the bridge on Benton Crossing Road about 5.3 miles off Highway 395. The Benton Crossing Road turnoff is immediately south of the Mammoth Airport on Highway 395.
Brown's is open from late April until late September, and you can call them for reservations or information at (760) 920 0975. The campground is large with sites for both RV and tent camping. The entrance is via a smooth dirt road, and most campsites are covered with rough grass, so there is very little blowing dust. The office is open from 8am until 5pm, and there is a small store there where you can buy a limited supply of basic items such as milk, hot dogs, worms and beer. Everything else you should bring with you. They advertise that they have a small restaurant, but that was closed while we were there. They have free restrooms, hot showers for $2 per seven minutes (if you are camped there – $6 if you are not camped there), and laundry facilities, all of which are in a 'bath house' that are clean and well maintained. There are also clean outhouse-type restrooms and trash cans strategically located throughout the campground. Because Brown's is on the river you can fish right in front of the campground, but I would suggest working downriver where the angling pressure isn't so great. The area upriver (above the Benton Crossing Bridge) has special regulations you should consult before trying your luck there.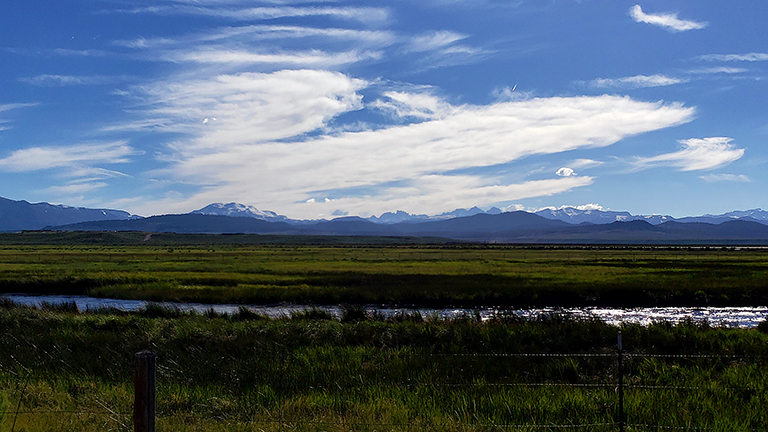 As the campground is on the river, there were a few mosquitos in the early am and late pm hours, but nothing a little Deet couldn't handle. The breeze that often comes up in the afternoon blows all the flying critters away, too. And you can't beat the view of the surrounding eastern Sierra Nevada mountains, especially when they are still sporting a covering of snow. All-in-all this spot is pleasant, provides reasonable accommodations, and is located alongside one of my favorite fishing areas. It's less than half an hour from Mammoth, it's clean, it's quiet, and it satisfies most of a camper/fisherman's basic needs. We will go back there again, and I think that once you try it, you'll like it, and maybe go back again, too.