DIVING AND FISHING GUIDES
Santa Monica Bay Diving and Fishing Log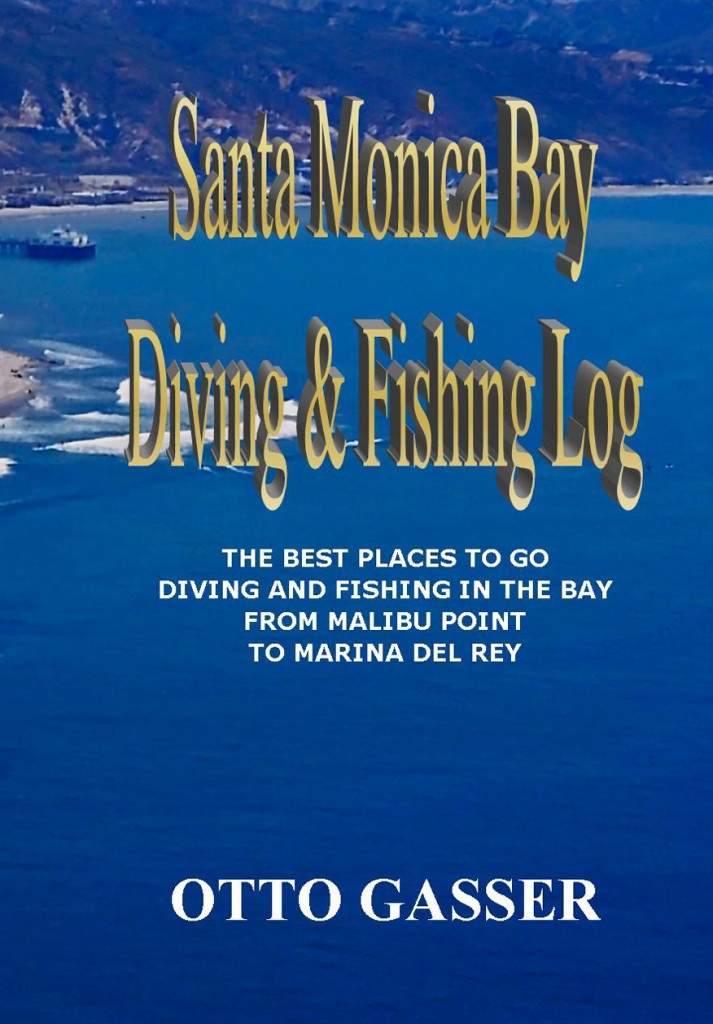 The Santa Monica Bay Diving & Fishing Log is loaded with directions to over 20 locations for the best diving and sport fishing in the bay, including approximate GPS locations, charts showing landmarks, depths and other features, and notes about what you can expect to find (and catch) on the bottom.
The Santa Monica Bay Diving and Fishing Log is available in paperback ($9.95) or in Kindle format ($9.95)
ACTION SCUBA ADVENTURE FICTION
Who hasn't had a wild dream about finding buried treasure? Our hero touched that dream, only to have it turn into a nightmare. Four divers find a chest of old gold coins in a sea cave, and everyone wants their share. Well, maybe some of them want part of someone else's share, too. They might have worked out their differences, but things swiftly become more complicated when word of the discovery reaches the descendents of the family who originally lost the coins in a shipwreck. Intrigue and betrayal ensue as everyone fights for a share of the treasure. As initial euphoria dissolves into disappointment and greed, the characters are forced to cope with their own personal shortcomings and motivations, but a few discover a different sort of treasure. The ending isn't what you'd expect……or would you?
Sunken Dreams is available in paperback ($7.95) or  in Kindle format  ($4.95)
Money just laying around on the bottom of the sea, up for grabs to the first come – who could resist? A diver out for lobster stumbles across a hoard of silver in a graveyard of old ships off California's golden coast, but a stupid move at the end of his dive almost costs him his life and lands him in the hospital. The dive-boat Captain, no stranger to treasure wreck diving, tries to recover the treasure first, but the local press gets wind of the find and stokes up a feeding frenzy. A few of the contestants are born losers, but greed has a way of turning ordinary men into sharks and urbane women into barracuda. Everyone in town wants a piece of the action, and it doesn't abate until a great white begins a feeding frenzy of its own.
Sunken Graves is available in paperback ($8.95) or in Kindle format ($4.95)
Terminal Acts
Dive Boat Captain Bobby Wright looks for the killers of an innocent fisherman, slain during an act of eco-terrorism gone horribly wrong.  The faceless terrorist group, fighting the construction of a new offshore gas terminal, claims the death is unfortunate, but justified…now the public is aware of the controversy.  The cost of the new terminal – the potential destruction of a pristine California Island – is too high a price to pay, they say.  Bobby races to stop the killers before someone else pays another high price…in blood.
Terminal Acts is available in paperback ($8.95) or Kindle format ($4.95)
 Sunken Pride
A black sea bass, one of California's rarest ocean fish, is killed by two brothers who are illegally fishing in a marine preserve off Anacapa Island. They deliver the giant fish to their Dad's local seafood restaurant where it is served up as fresh rockfish, just one of many tasty and interesting items the boys supply for the restaurant's menu. But the poaching was observed by Shawna, the divemaster on Bobby Wright's boat, which was anchored nearby. Outraged, Shawna reports the incident, and the wealthy restauranteur begins a bloody battle to cover up his sons' indiscretions and protect the family's good name.
Sunken Pride is available in paperback (9.95) or in Kindle ($4.95) format.