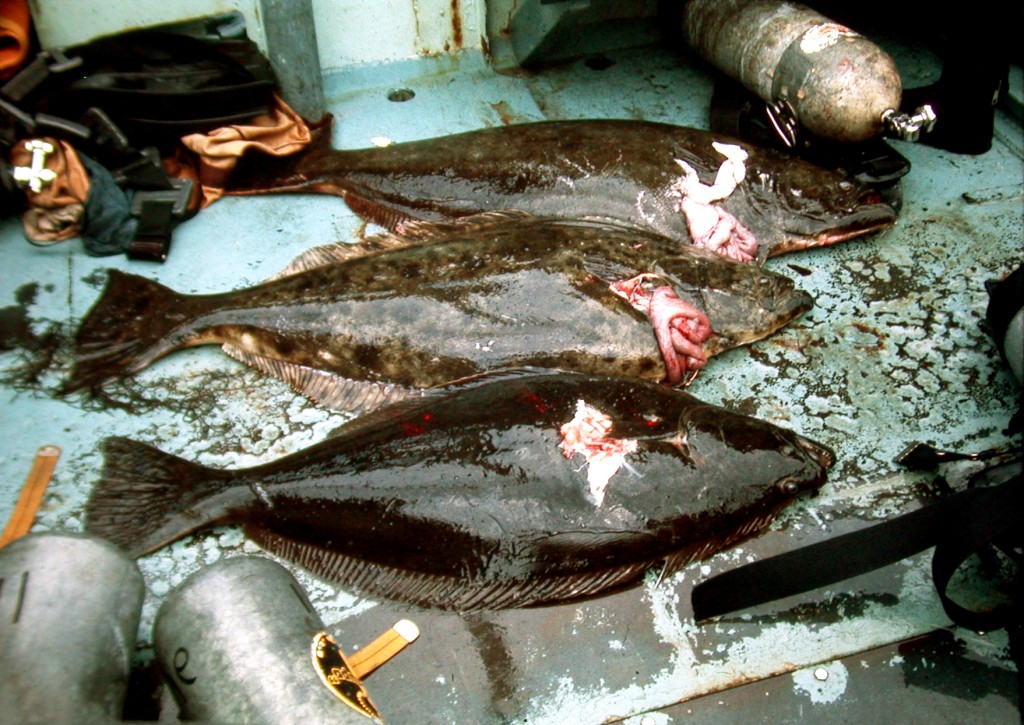 I was reading in a recent Western Outdoor News about the great 67.1-pound, record, California barn-door halibut caught aboard the Mirage out of Channel Islands Sport Fishing Center at Santa Rosa Island.  That brought back memories of some great halibut diving and fishing trips we had aboard the Coral Sea when its builder and skipper Glenn Miller was still alive.  He had a spot at Santa Cruz Island he called the "halibut hole" that almost always paid off big time for us, and I'd like to share one of our experiences with you.
On the east side of the island north of Painted Cove, and half way towards West Point, there's a small cove denting into the shoreline just south of a rocky point jutting out to sea.  The coordinates are 34.073207 N and 119.894424 W, which will put you in
the general area.  The cove has a flat sandy bottom beginning in about 40 feet of water that soon drops off rapidly, sloping into deeper water.  The halibut there liked to hang in the cove and on the sand drop offs between 40 and 90 feet of water outside, and both north and south of the cove itself.  They ran on the large size, usually between 15 to 50 pounds, and that was a good.  On the other (bad) side of the coin they were always mixed in with angel sharks, so that often made fishing or diving interesting.
I had a number of great experiences there, but one stands out above the rest.  I was diving with one of my newly certified students looking to shoot a halibut or two for dinner.  Right off I speared a 30 pounder and sacked it in a bag attached to my belt.  We hadn't gone far when I spotted an even bigger fish partially buried in the sand.  Wham, a clean hit with the
spear right behind the pectoral fin, and off he went.  He dragged me about 20 feet before settling down next to another halibut even bigger.  Adrenaline was running hot.  I
pushed the spear cleanly thru the speared halibut leaving him on the line between the gun and spear, and then, using both hands, I drove the spear cleanly through the new fish.  He took off one way and the first fish went another way.  What a blast.  Finally both settled down and I was able to get a hand into the gills of each fish.  They were mine, or so I thought.
I suddenly realized that with a fish in each hand, and another bagged between my legs, I might be the one at a disadvantage.  Now I had negative buoyancy, I couldn't reach my  buoyancy inflator, and the fish between my legs started kicking.  I looked at my buddy, the newbie diver, for help.  She looked back, eyes filling her mask, probably wondering what her crazy instructor was going to do next.  I tried eye signals, no luck, she just sat there grinning.  Finally I was able to get a little headway going using some kind of an egg beater kick, and I reached the surface.
Once my head broke out of the water I had to struggle to stay there with negative buoyancy and those three damn fish, but I wasn't about to let go.  With both hands full, legs churning a mile a minute, and still trying to keep my regulator from falling out of my mouth, I again looked beseechingly at my buddy for help.  I got another smile as she waited for me to do whatever it was I was supposed to do as her instructor.  Damn, I had forgotten to give her a lesson for circumstances like this.
Fortunately for me one of my regular buddies swam by and saw my predicament.  Unfortunately he started smiling too.  I started taking his name in vain, gurgling through the regulator that was now loose and half way out of my mouth, but then he came over and took one of the fish.  Finally I was able to push the button, gain positive buoyancy, and a feeling of relief.  Things were easy after that, so back to the boat.
We scored over 25 of those big fish that day, and we would have had more but many of the first time divers had never even seen a halibut, much less speared one.  Still, we shared,
and everyone on board went home with at least one large filet.
Fishing or diving, way back then this was flat fish paradise.  This used to be one of the
best areas for halibut at the islands, and I recommend you try it if you get the chance.  I've posting a map of the Channel Islands, including Santa Cruz Island, that shows the new Marine Reserve areas.  You can also check on the precise locations and the regulations for the Marine Reserves at http://channelislands.noaa.gov/welcome.html.   Have fun, but stay legal.