I featured part of this area in my February 2nd blog called "Just for The Halibut," where we looked at the shoreline in general from Moon Shadows south to past Big Rock. That blog was pointed at boat divers and fishermen, but this one is for gutty, beach-diving diehards like I used to be. Yes, I'm dwelling on this area again, but there's a reason. This was my favorite March halibut diving area for many years, and I think it should be one of your favorite beach diving spots, too.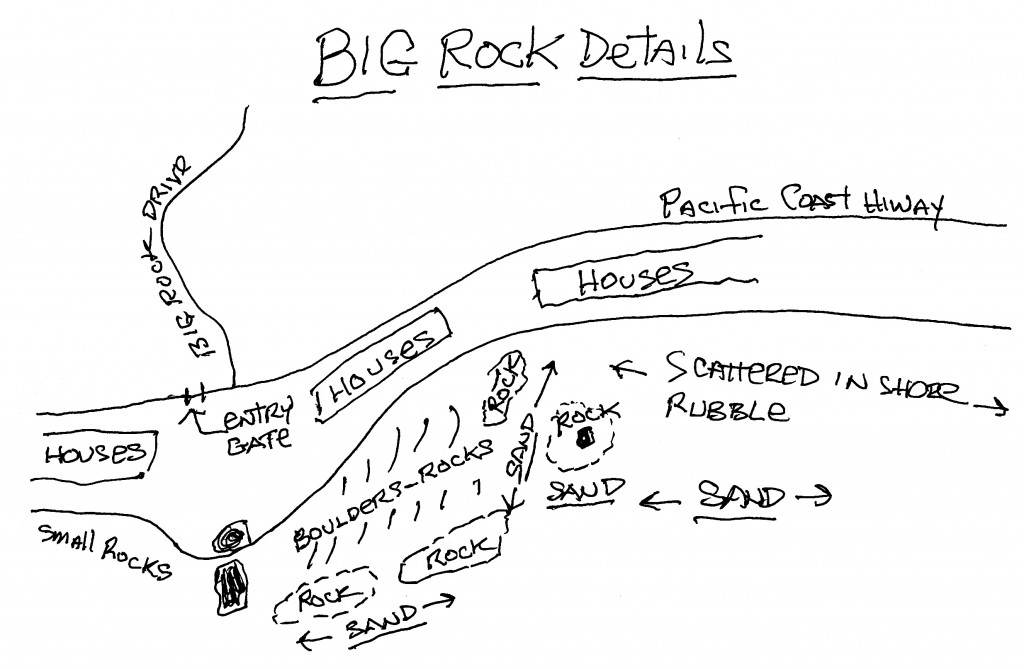 Parking is on the Pacific Coast Highway where ever you can find a spot. There's an access gate across from Big Rock Drive at about 19980 PCH, and that's usually open. From there it's a short walk to the large shoreline rock that gives this spot its name. You can enter the water off the sand north of the rock or walk out on the rock at low tide and step off from there. 
The first underwater structure looms up to within a few feet of the surface, and it's about 50 yards south of the entry point and slightly further out to sea. There's a second large structure south of that, and then it drops off to rubble rock and finally sand. There are several areas that used to hold fair numbers of halibut starting this time of year, and they're listed below in my own order of preference.
Dive One:  Work the sand outside of the two large rocks south for the first part of your dive then cut towards shore and work back in the small sand patches between the scattered rocky areas behind those structures. Take your time and crisscross the areas slowly covering about a 25 foot swath. Monitor your air so you end up back where you started at the end of the dive. I've speared a lot of medium sized flat fish here in the 5- to 20-pound range, and I hope you can do the same.
Dive Two:  Snorkel about 50 yards south parallel to the shoreline and then work further south in as shallow water as visibility will allow for about a third of your tank. Turn back out to sea and check out the sandy areas around the slightly exposed rock shown on the diagram.  Then cut north back towards Big Rock staying in the sand patches inside the two large rocks that you snorkeled over on your way out.
Dive Three:  Work the mud and sand directly seaward from your entry point planning it so that you use half your tank outbound and the rest returning towards shore using a very narrow rectangle pattern. This dive can be boring, but it can also be productive. I've found a number of critters in the 30 to 40 pound range hiding out here, but it's more hit or miss that the previous two patterned dives. When covering this area I like nice neutral buoyancy and I don't try to move too fast. These guys will bury themselves pretty well, so look for that exposed eyeball and jaw-line that gives them away.
I've been surprised that the fish reports from Marina Del Rey aren't showing more halibut. Maybe they aren't targeting them yet, or maybe the fish are late this year. In any case, don't give up on Big Rock, because if you keep checking it out sooner or later you're bound to score.
Next week features one of our favorite 2010 fishing trips for King Salmon in the Queen Charlotte Islands, British Columbia, Canada.